Skip Header
Our first Continental European business managed equities for distribution clients. Now, we manage a broad range of asset classes and products: equities, fixed income, real estate, cash, manager selection, and asset allocation funds for institutional, wholesale and retail clients, whilst also providing access to other investment managers' funds and to market-leading account services for independent financial advisers in Germany and Austria via our platform business, FIL Fondsbank (FFB).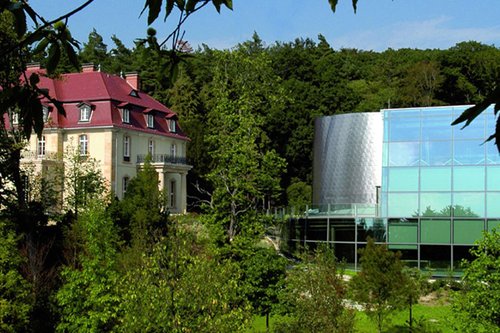 Kronberg
In 1992, Fidelity opened its office in Germany, our most important market in continental Europe. In 2003, we moved to our own premises in the town of Kronberg near Germany's financial capital Frankfurt (which offers easy transport links around the world). In Kronberg, Fidelity currently employs over 300 people, for example, sales, fund and account administration, fund management, client service, compliance, legal, marketing and administration among others. They all benefit from an office that embodies an open-minded culture and a climate of trust.
The office itself is situated in a beautiful park in the Taunus Mountains and a wide variety of sports and outdoor activities are often organized to take advantage of the outdoors. An on-site canteen offers freshly prepared meals and a complimentary shuttle bus collects employees from Kronberg train station.
See on maps
FIL Investment Services GmbH
FIL Fondsbank GmbH
FIL Finance Services GmbH
FIL Investments International - Niederlassung Frankfurt
Kastanienhöhe 1,
61476 Kronberg im Taunus,
+49 (0)6173-5090
Luxembourg
Our Luxembourg office is home to 175 employees and focusses primarily on Fund Accounting, Finance, Product Development, Central Marketing, Customer Services, Legal, Compliance, Company Secretariat, Technology, Risk, Internal Audit, Corporate Services, Sales and HR. It is the central hub for Fidelity in Continental Europe and offers a broad variety of opportunities for employees to develop their skills across functions.
Based in Kirchberg, north-east of the City Centre, there are many notable European institutions nearby, including the European Court of Justice and the European Investment Bank. Kirchberg is also home to The Philharmonie Luxembourg, Luxembourg's national concert hall and The Grand Auditorium which hosts a wide variety of performances.
There are a whole host of social and sports activities on offer including The Fidelity football team who regularly compete with neighbouring businesses. We also host a Christmas party, summer barbecue and a St. Nicolas event where employees bring their children to the office to celebrate.
See on maps
FIL (Luxembourg) S.A.
FIL Holdings (Luxembourg) S.A.
FIL Investment Management (Luxembourg) S.A.
2a, Rue Albert Borschette
L-1246 Luxembourg
00352 250 404 1