Skip Header
Our first UK office opened in London in 1973. We now have some 2,500 people working in three main offices at Lower Kingswood in Surrey and Cannon Street in London.
Today London is our largest investment hub. We manage a broad range of asset classes and products, including equities, fixed income, real estate, cash, manager selection, and asset allocation funds. We also distribute the funds of other investment managers and offer market-leading account services through our FundsNetwork platform. Our bottom-up research-led investment approach gives our fund managers the freedom to express their own convictions in their portfolios. Every investment is made on its own merits after a thorough analysis of its fundamentals.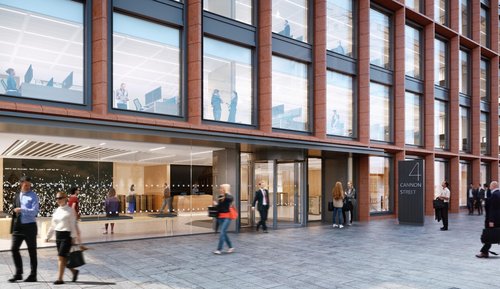 Central London
4 Cannon Street is our flagship office located in the heart of London, right next to one of the City's most iconic and recognisable landmarks; St. Paul's Cathedral.
The office is a modern open workspace that has been designed in conjunction with business teams to support new ways of working that, combined with the latest technology, will help create a flexible and adaptable environment offering a wide variety of spaces to use.
The building has several great features - client meeting rooms with fantastic views of St Paul's, The Exchange where you can meet up with colleagues, and panoramic views of London from the Roof Terrace which we can use for client hospitality and events. 4 Cannon Street has incorporated The WELL Building Standard into our new workplace, with a view to achieving WELL GOLD Certification. Certification is attained through a scoring system for each of the following concepts: air, water, nourishment, light, fitness, comfort and mind, to ensure that the workplace environment itself is supporting our staff to be happy and healthy.
See on maps
​​FIL Investment Management Limited,
4 Cannon Street,
London.
EC4M 5AB
Surrey
Our Kingswood Fields site is our largest UK office and is set in the beautiful Surrey countryside. The campus consists of three separate buildings: Beech Gate House, Kingswood Place and Windmill Court and is surrounded by extensive grounds. Kingswood is home to many different business units including Technology, Customer Services, UK Distribution, Marketing, HR and central functions such as Operations, Finance and Risk.
There is extensive on-site parking for all employees in addition to free coach transfers to and from Sutton, Redhill and Kingswood train stations, as well as a fantastic on-site restaurant and deli bar offering an extensive lunch menu.
We have a state-of-the-art on-site complimentary gym managed by Nuffield Health featuring a range of exercise machines, training programmes, classes and changing rooms with heated lockers for those dedicated cyclists. We make the most of our beautiful grounds with running clubs, walking trails and even our own bee hives.
See on maps
FIL Investment Management Limited:
Millfield Lane,
Lower Kingswood,
Tadworth,
Surrey,
KT20 6RP,
+44 (0)1732 361144